The rental of spaces for cooking in Madrid is a unique opportunity to enjoy good gastronomy in every sense of the word. In general, the sites that serve this purpose are designed to meet specific needs that take place within a kitchen, such as photo shoots, private lessons, etc. As experts in space rental in Madrid, we tell you everything you need to know.
At Monbull we have created a space for cooking with authentic details that is ideal for product presentations, workshops and cooking courses, filming, team building or show cooking. Our speciality is to offer a wide range of rooms designed to meet the requirements of space and, of course, the kitchen is one of the most prominent.
With a modern, harmonious and warm style, the kitchen of Argensola, 25 has become one of the favourite places for customers and they are very happy to rent spaces with kitchen in Madrid. As part of our essence, we have focused on creating a site that reflects a spirit that makes you feel at home.
In most households, the place where food is prepared represents the place of the most important family gatherings, where all the emotions of a family come together. This same magic can be felt in the space we have prepared for your culinary project.
The details reflect a blend of the traditional and the modern, which gives that touch of authenticity: rustic elements blend with the bright colour of gold and the spaciousness of the place promises comfort, elegance and true glamour. Undoubtedly, a cooking space that was designed for those who want to stand out from the crowd.
As part of our proposal we have placed other tools to enhance the kitchen experience, such as a 50′ plasma screen TV, state-of-the-art furniture and appliances, kitchenware, WiFi, an adjoining patio and two private toilets. Everything you need if you are interested in renting cooking spaces in Madrid.
Rental of self-catering spaces in the centre of Madrid
The capital is a city that is adorned with traces of an interesting past and a present that is constantly being renewed. It has magic in its inhabitants, fire in its guts, sweetness that makes you fall in love and an endless number of characteristics that give it an enviable versatility.
For all these reasons, renting a space with kitchen in the centre of Madrid is a unique alternative that provides proximity, thanks to its location in a strategic point for everyone. In particular, our space in Monbull is located in a key point in Madrid, surrounded by the elegant Justicia neighbourhood.
Anyone who has the privilege of entering this kitchen will feel at home in a different and innovative atmosphere, but with the energy of feeling at home. Comfort, privacy, warmth and elegance are the main qualities of this cooking space, which was drawn with holistic thinking in every corner.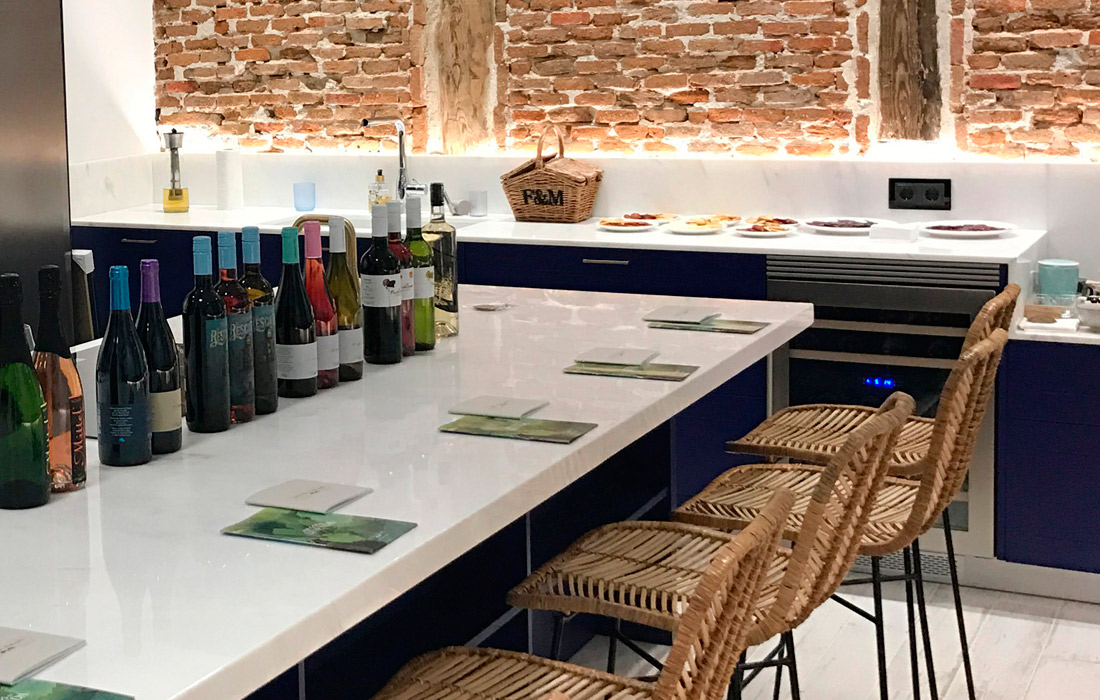 Spaces for gastronomic filming
When you want to record a gastronomy programme or a cooking workshop, you should use spaces for gastronomic filming. The kitchen we have for you to carry out this type of audiovisual production has a considerable amount of space, so that the team can work without any problems and there are no problems with the electronic equipment.
In addition, lighting is an aspect that cannot be neglected in these works, as it directly affects the quality of the material. Therefore, we thought that the entrance of natural light would help to paint shadows and contrasts and create a unique setting for the recordings.
If you have an idea or do not yet know how to start your project, contact us and we will accompany you in this proces At Monbull we are passionate about cooking spaces and we know how to make the most of the place we have prepared for your gastronomic proposal.
If you are looking for a charming space to rent for cooking in Madrid, do not hesitate to contact us. We will be happy to help you! You can book a visit at contacto@monbull.com or, if you prefer, call us on (+34) 91 737 27 17 or (+34) 665 89 26 89.