If you are thinking that renting meeting rooms in the Justicia-Chueca district of Madrid is the best option for your business, here you will find the most exclusive facilities in this area of the Spanish capital. As experts in the rental of spaces in Madrid, we tell you everything you need to know.
You walk through the door of your new office and all you find is peace. Spacious spaces, elegant, trendy and captivating design, light flooding the room through the windows… Unbeatable, isn't it There is still much more to come. Find out about the best meeting rooms in the centre of Madrid.
Once you step inside and settle in, it won't take you much longer to feel at home. Perfectly equipped with two toilets and a kitchen, you might even think that this is a home of the highest design.
But you haven't seen everything yet, because our space at Argensola 25 is equipped with the latest technology so that your events, activities and business meetings run as smoothly and efficiently as possible.
With Wi-Fi and fibre optics, voice and data cabling, 55-inch television for your presentations, air conditioning for maximum comfort, and all the auxiliary and complementary material you may need. Nothing has been left to chance. Meeting room hire in the Justicia district has never been so complete.
No matter what type of event or activity you are planning. Here you will find plenty of space, comfortable, very cosy and, above all, in one of the best areas of Madrid, in the Justicia neighbourhood and very close to Plaza de Colón.
Meeting room in Argensola 25
Its privileged location makes it very easy to get here, either by public transport by bus or metro, or by private car, with plenty of parking spaces nearby.
In the rental of meeting rooms, we will be at your disposal for everything you need. Either by hiring a customised catering service or by providing you with the services or products required for your events, meetings or activities.
And just when you thought you had seen absolutely everything when it comes to renting meeting rooms and workspaces, suddenly Argensola 25 arrives and you start to doubt again. Location, design and technology in a single space.
Moreover, as it is located in one of Madrid's liveliest neighbourhoods, you will find everything you need just a few metres away. Whether you want to go out to a café or restaurant in the surrounding area, take a stroll around the neighbourhood or do any other activity.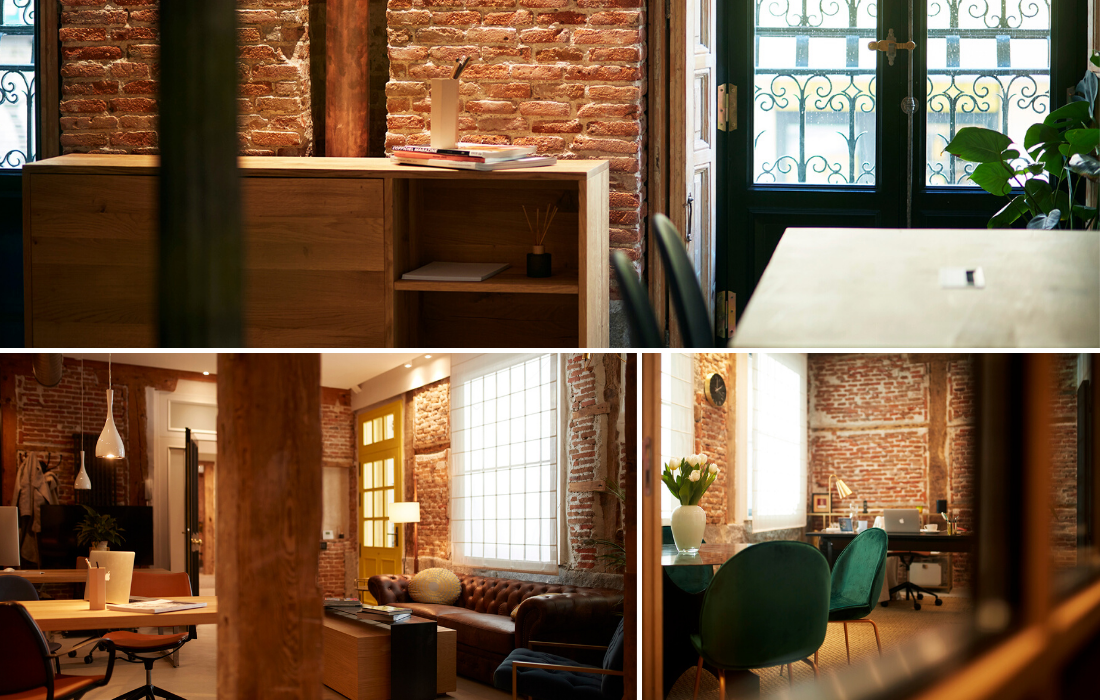 Exclusive spaces for rent in the centre of Madrid
Forget about small offices and tiny spaces that are too sober and simple and do not bring any warmth to your corporate events and do not invite you to stay longer.
In your new meeting room rental in the Justicia neighbourhood this will not happen to you. It is specifically designed according to the highest standards of technology, vanguard and wellness, to give the best impression to all attendees.
Product presentations, press conferences, professional meetings, events, team building activities, etc. Whatever activity you're planning, don't hesitate: you've finally found the perfect place to make it happen. And all with the peace of mind of knowing that you have made the right choice.
In addition, Argensola 25 has become one of the favourite places for clients who choose to rent spaces with kitchen in Madrid.
At Monbull we are experts in the rental of meeting rooms in the Justicia district of Madrid. And now that you know where we are and our availability to advise you on the choice of meeting room hire, do not hesitate to contact us.
You can contact us at contacto@monbull.com or, if you prefer, call us on 91 737 27 17 or 665 89 26 89. We will be happy to inform you of all the possibilities that best suit your needs.