Planning every detail of an audiovisual production is usually a real headache, as it is not always easy to find everything you need quickly. However, with the rental of creative spaces for commercials and filming in Madrid, producers have found an excellent solution to many inconveniences.
At Monbull we are aware that finding the perfect location is not an easy task and, for this reason, we offer you a range of proposals with the best locations in the city. Our rental space in Madrid concentrates the ideal sum of elements that will enrich both the recording experience and the final product.
For us it is essential that everything on the chosen stage has a special reason for being. For this reason, we have decided to create special spaces for shootings and shoots to suit different needs, such as an advertisement, for example.
The team of designers who represent our brand have discovered the exact formula that makes our spaces the perfect place for your audiovisual project: elegant details, fine finishes, modern atmospheres and structures that guarantee the privacy you are looking for. All this results in a useful, fine and delicate concept.
Unique spaces in Madrid city centre
Monbull defines itself as a collection of exclusive spaces, which have come to the market with the intention of transforming the idea of renting spaces for events, meetings and filming. The premise that has driven us is the intention to facilitate this process with a smart proposal of strategically located locations.
In this sense, our unique spaces in Madrid centre have been created to provide a solution to the needs of our clients. In addition, we have added to this project good service so that there is always a close accompaniment at every stage of the filming.
In total, there are four unique scenarios, which are perfectly suited for an unforgettable and transcendental work:
Argensola, 25. This location is highly versatile for your productions. Located in the well-known district of Chueca, it can be used for different purposes, as it can be personalised according to taste.
Príncipe de Vergara, 15. With three large halls with high ceilings, spectacular stained glass windows and marble staircases, it is a grandiose little palace. Its finishes reveal a careful and delicate design that embellishes its productions. A space for commercials and filming in Madrid city centre.
Terrace Campoamor. With the most inspiring views in the centre of Madrid, it is undoubtedly an ideal creative space for simple shoots, fashion productions and product presentations. In total, 120 square metres of comfort and style.
The kitchen of Argensola, 25. Versatility is the most relevant quality of this space for commercials and filming in Madrid. It has an amazing kitchen, which can be rented independently or with the rest of the place.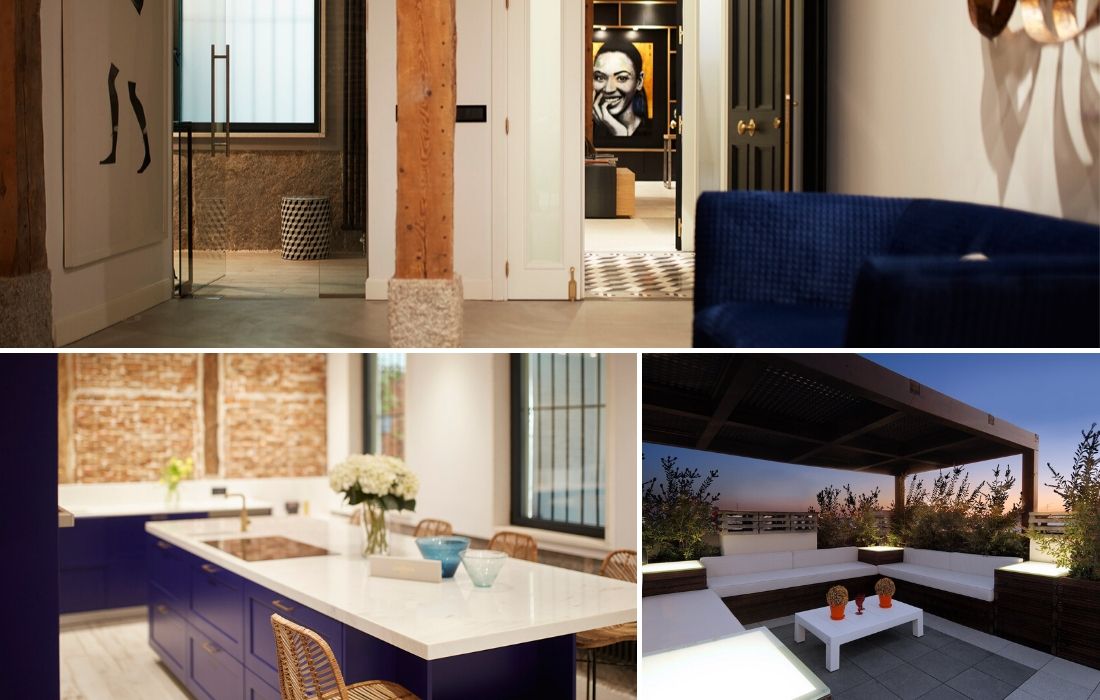 Looking for creative spaces to record in Madrid?
If you are looking for a creative space to record in Madrid, we invite you to discover our wide range of options that easily fit your requirements. At Monbull we listen to your expectations and we manage to meet the needs of the project you present to us.
Each of our stages are located in the main districts of the city, to facilitate the arrival of the team involved: Monbull has spaces in Barrio de Salamanca, Barrio de las Letras, Chueca and Retiro. We have evolved the concept of a flexible space, with an eclectic decoration that can be adjusted to the client's wishe
As experts in creative space rental for commercials and shoots, we focus on good service, timely resolution and impeccable décor to optimise the results of your project. Each creative space of Monbull becomes an added value and contributes positively to the image of its users in the eyes of consumers.